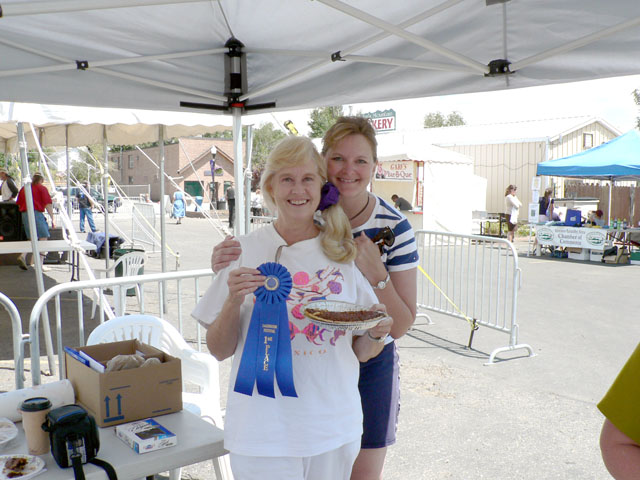 If you can read, you can cook. Here I am with my first place ribbon at the annual Sage Brush festival, with a special hug from then-President of the Greater Granby Area Chamber of Commerce, wonderful, Patty Peterson. One of my favorite recipes, I call "Penny's Peanut Brittle" is super easy to make and is great gift. You will need 1 cup of white sugar, ½ cup of white corn syrup, 2 ½ cups lightly salted peanuts, 1 tablespoon butter, 1 teaspoon vanilla extract, 1 teaspoon peanut butter, ½ teaspoon cinnamon, 1 ½ teaspoons baking soda.

Cover a cookie sheet with non-stick aluminum foil. Combine the sugar, corn syrup, peanuts, and cinnamon in a large, clear microwave-safe bowl. Cook for ten minutes, stopping every two minutes to stir the mixture. It will be very hot so wear oven mitts. At the end of the ten minutes, stir in the butter, vanilla, peanut butter and baking soda. Pour onto the waiting cookie sheet. Cool. Break into pieces. Enjoy or give away.
Here is the "secret" recipe for the award-winning Easy Chocolate Turtle Pie: A semi-home made, Sagebrush Festival 1st place winning, fudge, pecan pie with a healthy twist-
Ingredients:
Prepared Graham cracker pie crust
1/2 cup warm Fudge Ice Cream topping
2 cups of chopped pecans & 1 cup of whole pecans
1 teaspoon of cinnamon
3 eggs
1/2 cup of honey
1/2 cup of dark corn syrup
2/3 cup of chopped dark chocolate bits
1/4 cup of Extra Virgin Olive Oil
Instructions: Spread the prepared Graham cracker crust with warmed fudge ice cream topping
Take 1 cup of the chopped pecans and place on top of the fudge on the bottom and sides of the unbaked pie crust
Sprinkle the teaspoon of cinnamon on the pecans.
In a separate bowl, beat the eggs, honey, syrup, chopped pecans & chocolate bits & EVOO (Extra Virgin Olive Oil)
Pour the mixture into the pie crust
top with the cup of whole pecans
Bake in 350 degree oven for 40-45 minutes until you can insert a sharp kife or long tooth pick and it comes out clean.
Cool and serve and listening to the oohs and aahs.
Recipe/Photo Note: This dessert was so popular at our local Sagebrush festival that the judges ate the second pie we were supposed to auction off!!